Lumbrokinase Digestive Enzymes for Blood Clots, Gut Cleanse, and Heart Health
Lumbrokinase Digestive Enzymes for Blood Clots, Gut Cleanse, and Heart Health
✓Through extensive research and scientific expertise, we have developed a premium-grade lumbrokinase that outshines serrapeptase by 300 times and nattokinase by 30 times.
✓With its origins in 100% natural ingredients, our formula ensures optimal digestion and enhanced nutrient absorption. 
Risk Free 30 Days Money Back Guarantee
Free Shipping on ALL orders
1 bottle
1 Month Supply
$34.99 per bottle
2 bottles
save $14.00
$27.99 per bottle
3 bottles
save $31.49
$24.49 per bottle
View full details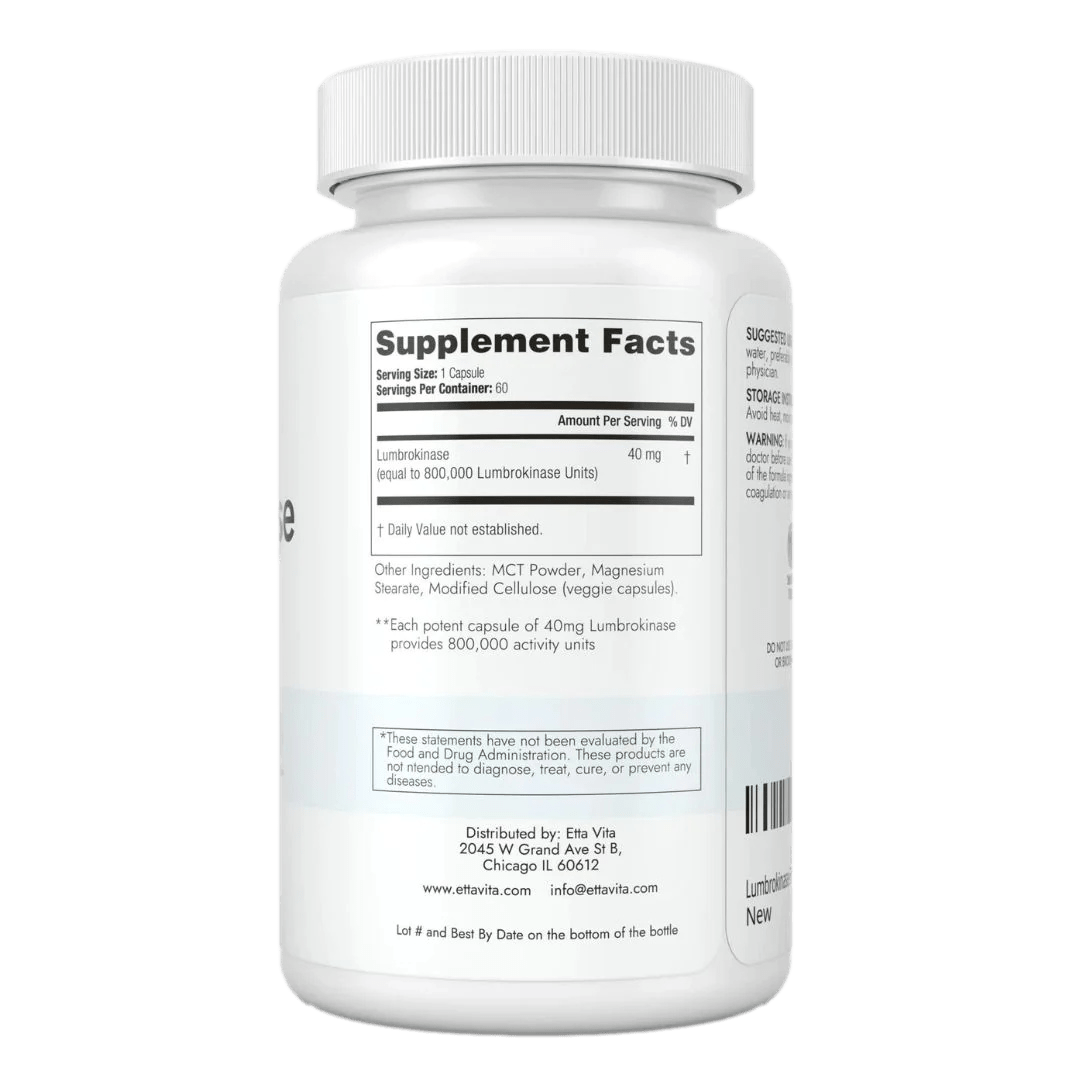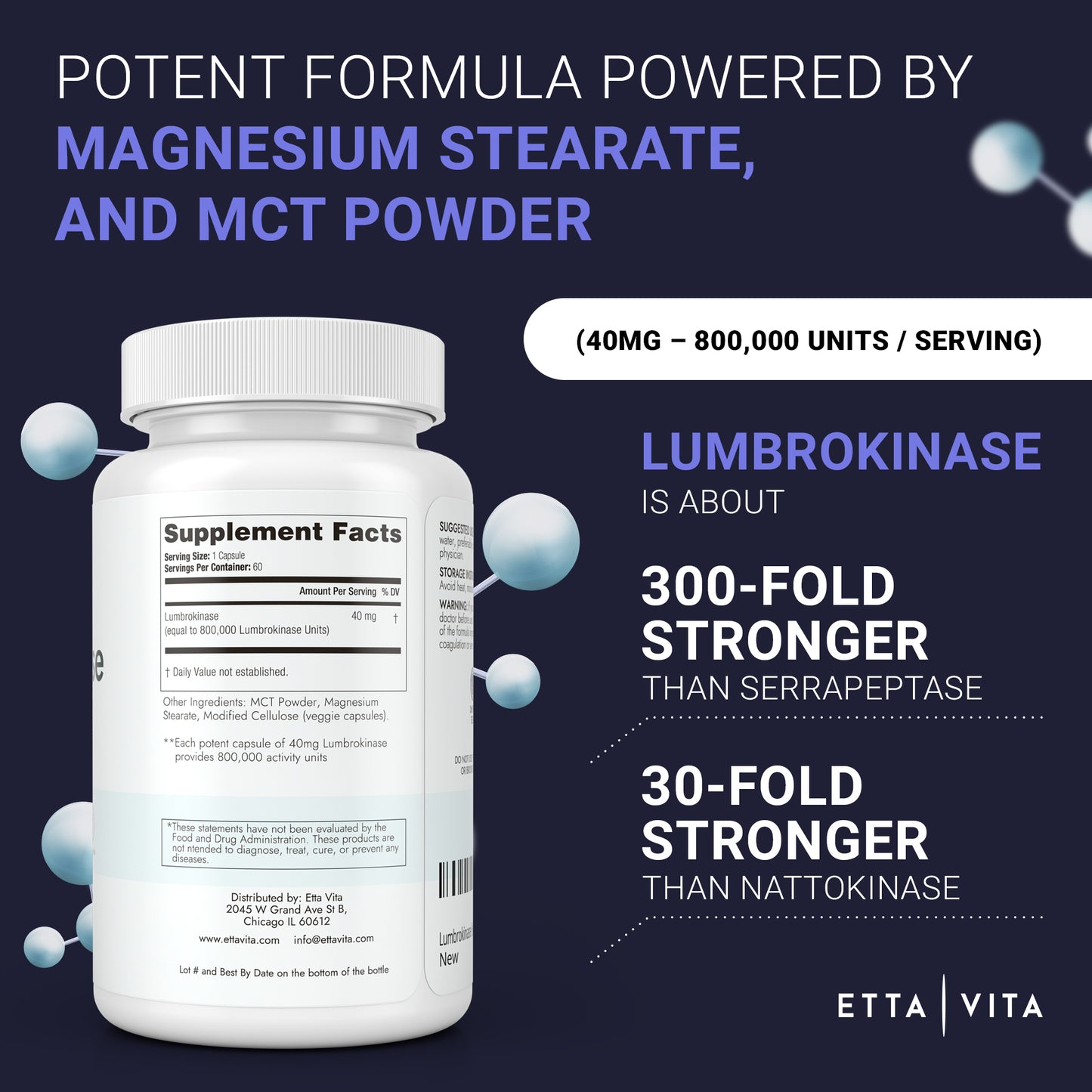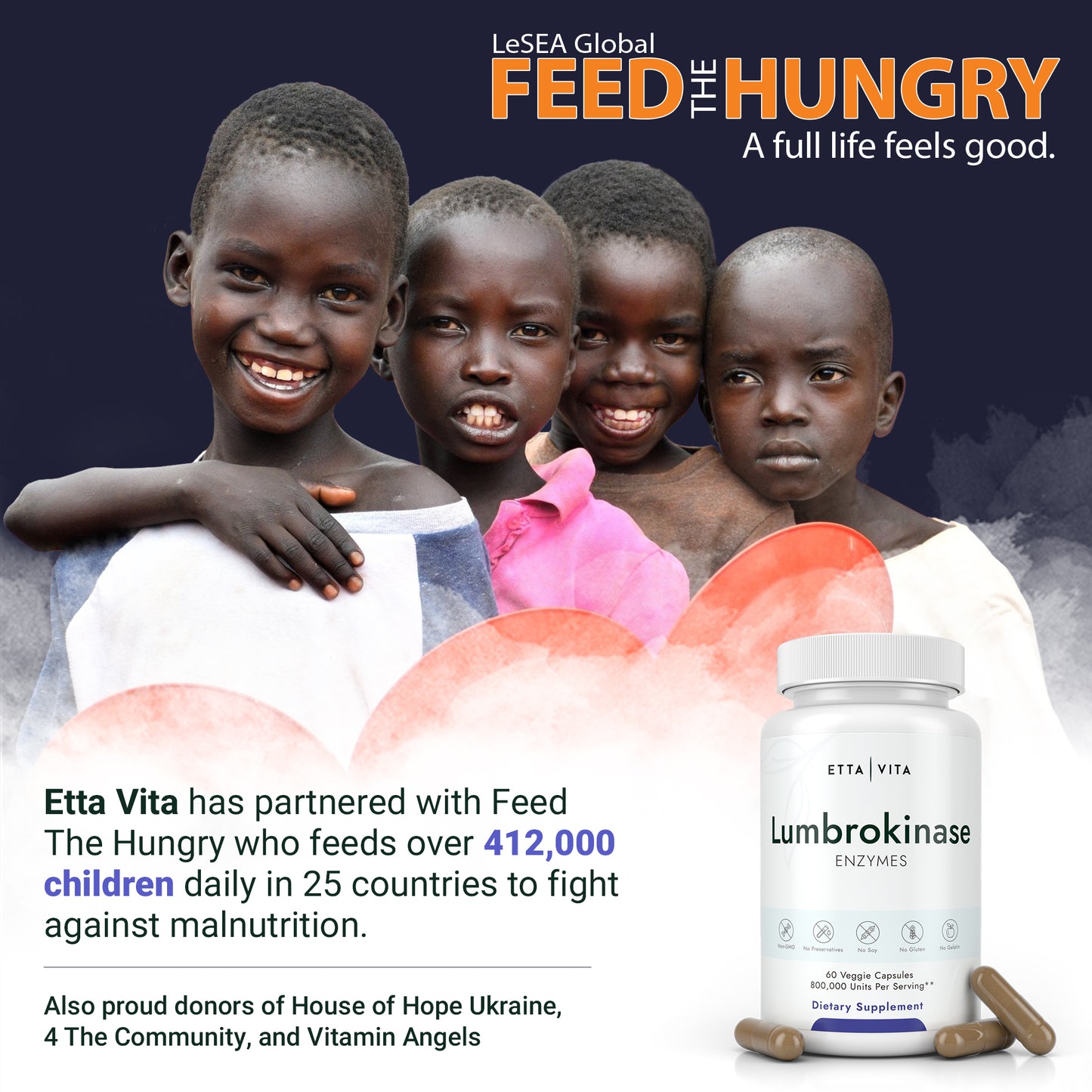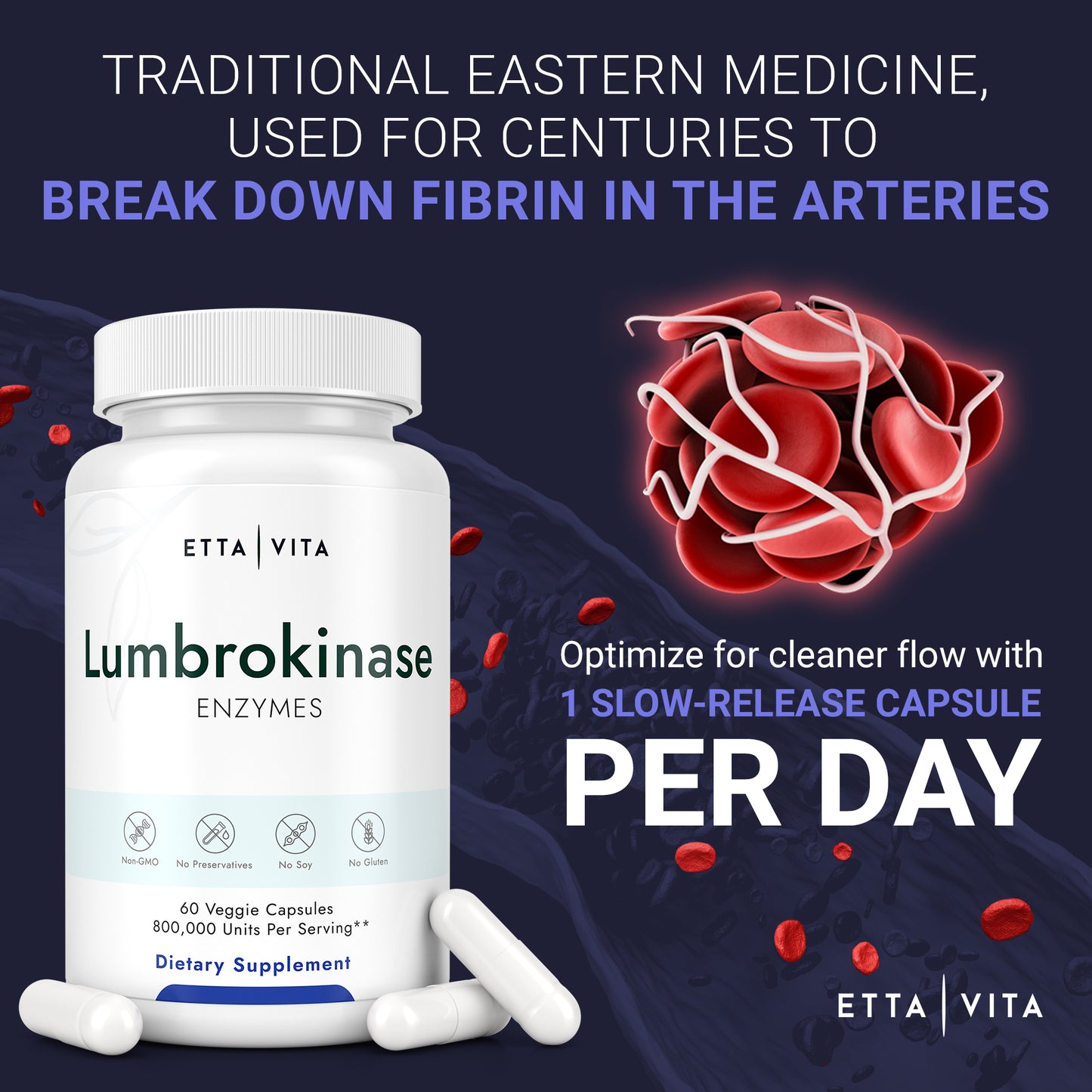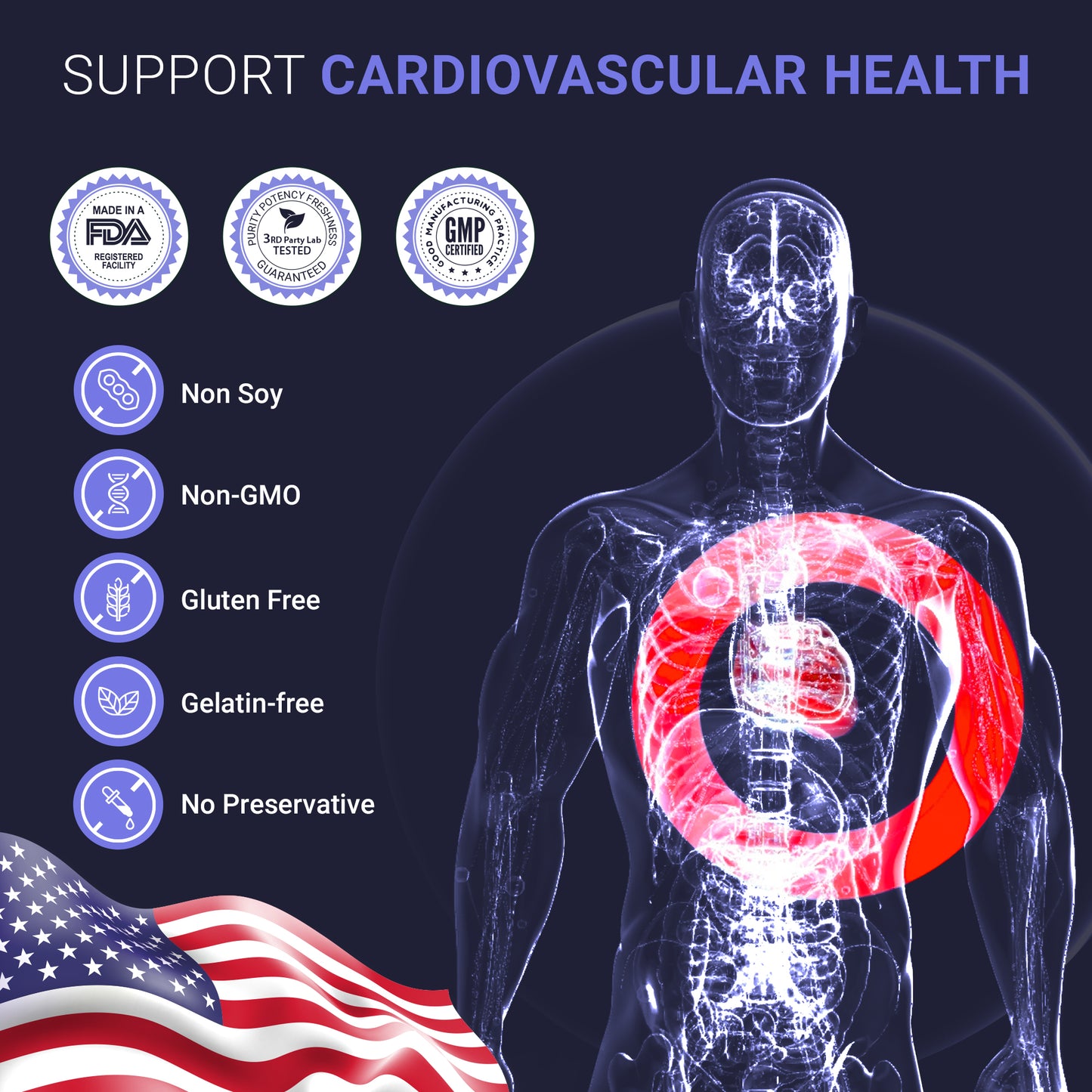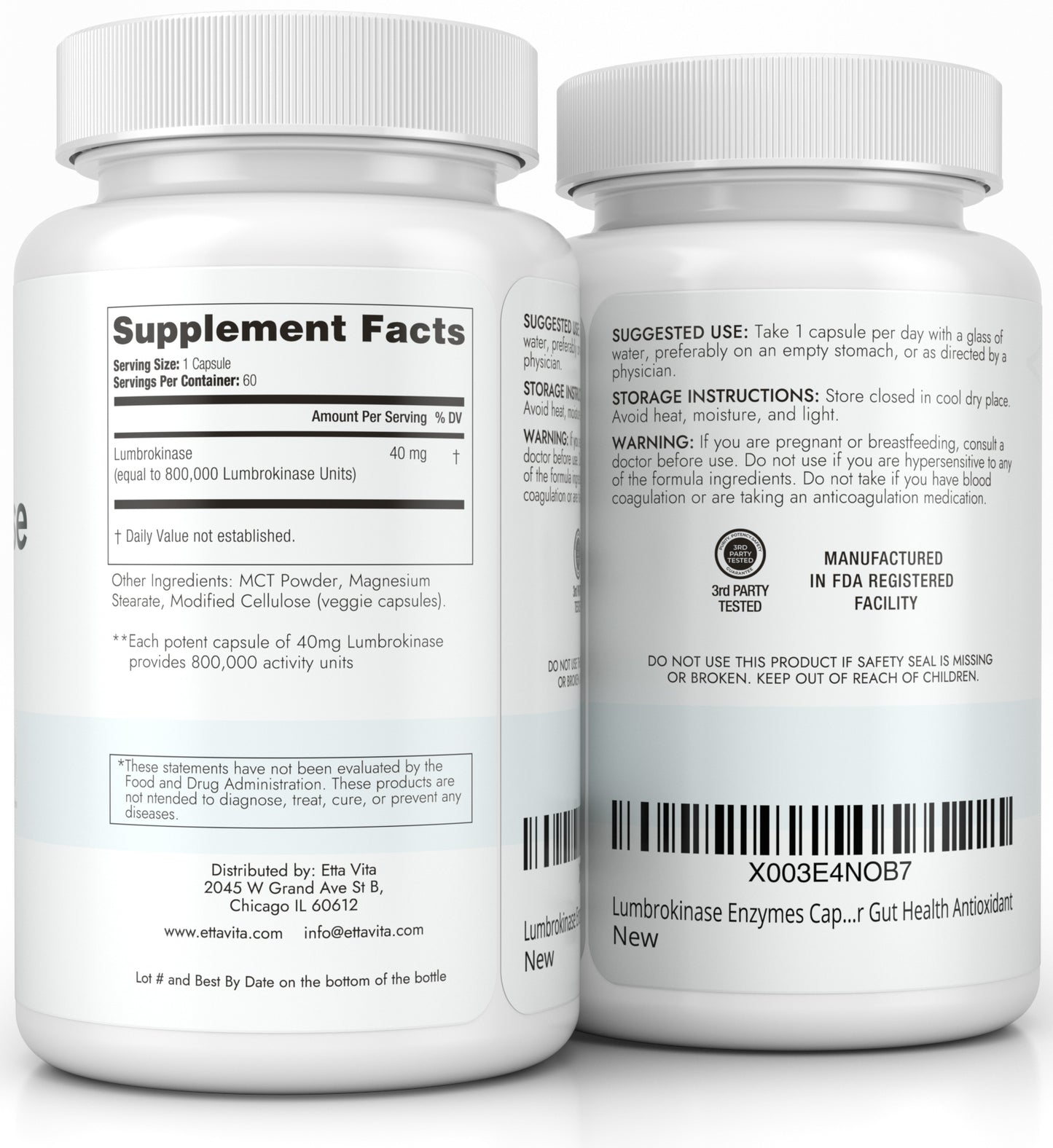 Ancient Nutritional Wisdom for Modern Day Challenges
Lumbrokinase, a remarkable ingredient with a rich history in traditional eastern medicine. Experience enhanced digestive efficiency, cardiovascular health, optimal extraction of essential nutrients, and the overall support of a healthier gut ecosystem.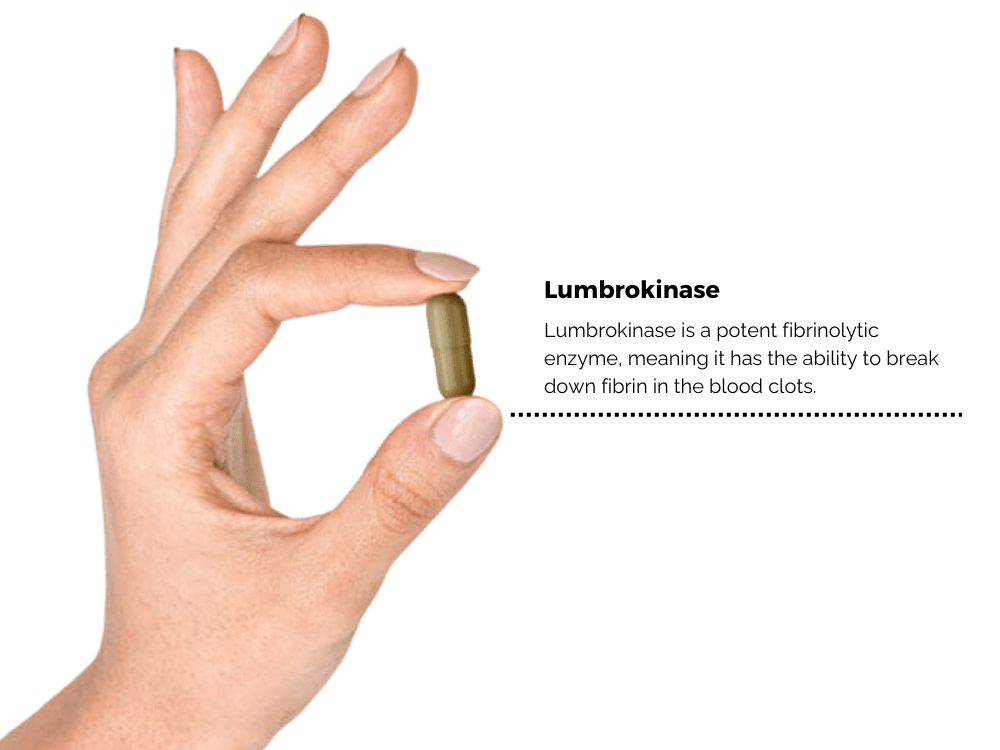 With its unique properties, it has been widely recognized for its ability to break down fibrin in the arteries, supporting cardiovascular health. Lumbrokinase plays a pivotal role in promoting gut health by reducing blood cell clumping and breaking down biofilms. Its digestive prowess shines through as it assists in the effective breakdown of food, enabling the extraction of essential nutrients for maximum absorption and utilization.

Embrace a life where vibrant health and vitality flourish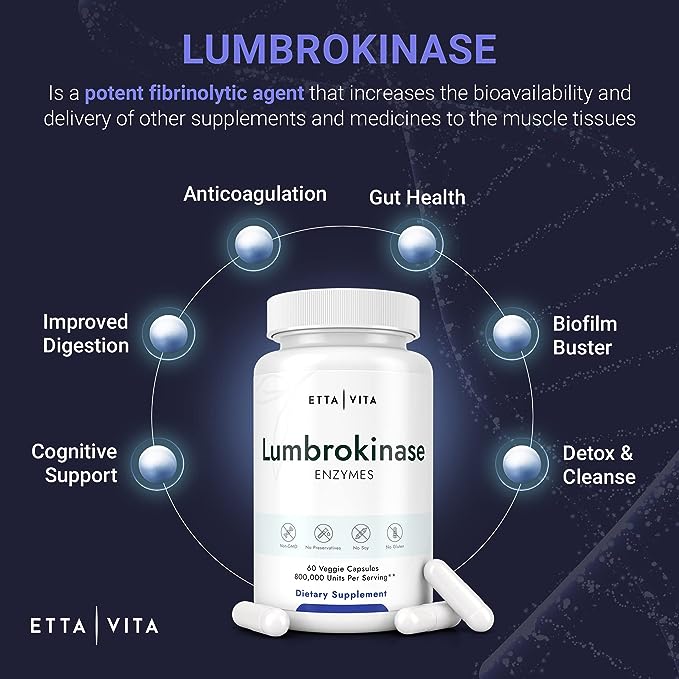 Where Nature Meets Science:
To enhance the efficacy of our supplement, we've strategically included MCT powder and magnesium stearate. MCT powder (derived from medium-chain triglycerides). This blend offers a readily available energy source that supports optimal digestion and nutrient absorption. Meanwhile, magnesium stearate acts as a crucial flow agent, ensuring proper ingredient distribution and enhancing their overall effectiveness.
High Potency:

Each serving contains 40mg of lumbrokinase, delivering an impressive 800,000 units of beneficial enzymes. With its exceptional potency, our product surpasses serrapeptase by 300 times and nattokinase by 30 times, ensuring optimal digestive support and overall wellness.

Comprehensive Formula:

Our unique blend goes beyond lumbrokinase alone. With the inclusion of MCT powder and magnesium stearate, our formula offers a synergistic combination that optimizes digestive health and nutrient absorption. 

Reduce Blood Cell Clumping:

Biofilms are layers of slime that can clot and hide bad bacteria while remaining undetected. Lumbricus rubellus earthworm or Lumbrokinase can help break down these clumps to increase blood flow while reducing concerning clots, while also aiding in cardiovascular health.

Enhance Digestion:

Specially designed to assist your body in breaking down food effectively, ensuring proper digestion.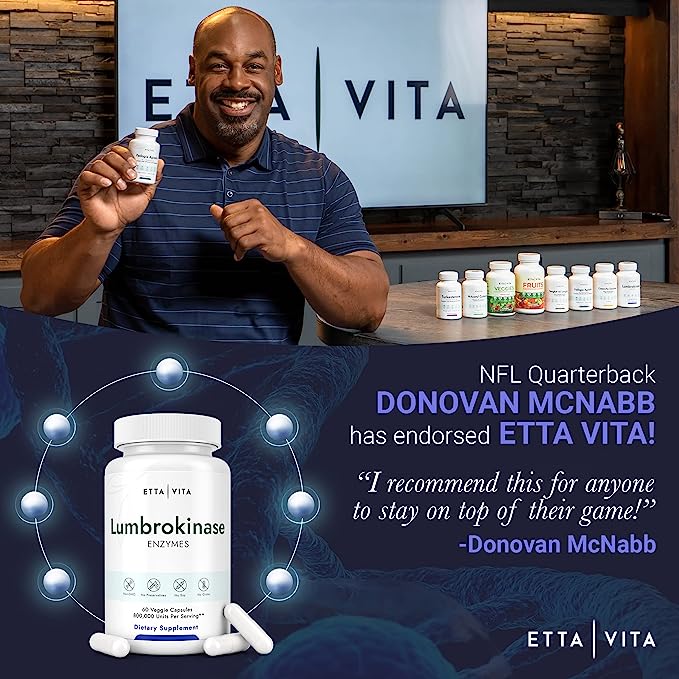 Precision in Every Dose
This extraordinary blend of ingredients sets the stage for comprehensive digestive well-being, influencing various aspects of your overall wellness, from nutrient absorption to immune function.
Promotes Nutrient Absorption:

By supporting the digestion process, these enzymes help your body extract essential nutrients from the food you eat, maximizing their benefits. Get the most out of your meals and nourish your body with ease.

Aids in Healthy Gut Function:

Lumbrokinase enzymes assist in maintaining a healthy balance of gut bacteria, which is crucial for overall digestive wellness. Nurture your gut health and support optimal digestion.

Reduce Discomfort:

This supplement can alleviate occasional digestive discomfort and bloating, allowing you to feel more comfortable after meals. Enjoy better digestive harmony and relief from unpleasant symptoms.
| | | Others |
| --- | --- | --- |
| Advanced Formulation | Our Lumbrokinase Digestive Enzymes capsules are crafted with precision using premium-grade and complementary ingredients, ensuring superior effectiveness. | Lack the premium-grade ingredients and refined formulation employed by Etta Vita, resulting in a standard digestive enzyme supplement. |
| Maximum Efficacy | Our formulation incorporates a synergistic blend of magnesium stearate and MCT powder, ensuring the proper distribution of the ingredients and enhancing their overall effectiveness.  | Typical enzyme alternatives like serrapeptase and nattokinase are 3-30X less effective. Other formulations may lack the specific enzyme combinations required for maximum absorption. |
| 24/7 Support | We offer round-the-clock customer support, ensuring immediate assistance and resolving any concerns. | Limited or no customer support availability, leading to delays or unsatisfactory resolutions. |
| Science-Backed Formulations | Our formulations are precision-engineered using scientific research and evidence, resulting in exceptional effectiveness. | Formulations may lack scientific backing, raising doubts about their efficacy and benefits. |
| Big 8-Free | All of our supplements are free from the eight major allergens (milk, eggs, fish, crustacean shellfish, tree nuts, peanuts, wheat, and soy), accommodating a wide range of dietary needs. | May contain allergens or cross-contamination, posing risks for individuals with allergies or dietary restrictions. |
| Third Party Lab-Tested  | All of our products undergo rigorous third-party lab testing for quality and safety, manufactured in an FDA-approved facility with stringent quality control measures. | Lack of third-party lab testing and manufacturing in an FDA-approved facility, compromising quality assurance and safety standards. |
| Vegan & Keto-Friendly | Our products are formulated to be vegan and keto-friendly, aligning with plant-based and low-carb dietary preferences. | Not specifically tailored for vegan or keto diets, limiting options for individuals following these lifestyles. |
| | | |
ASK AWAY
If you can't find the question you have in the FAQ feel free to email us at info@ettavita.com and we'll respond as quickly as possible.
What is the recommended dosage of Lumbrokinase? 
The recommended dosage of Lumbrokinase is one capsule taken once daily.
Can this be taken on an empty stomach? 
Yes, Lumbrokinase can be taken on an empty stomach. However, some individuals may prefer taking it with a meal to minimize any potential gastrointestinal discomfort.
Why is magnesium stearate and MCT powder combined in your Lumbrokinase Digestive Enzymes Supplement? 
We combine magnesium stearate and MCT powder in our Lumbrokinase Digestive Enzymes Supplement to enhance its overall effectiveness and absorption. Magnesium stearate acts as a flow agent, ensuring the proper distribution of the ingredients and promoting their optimal integration.
Can Lumbrokinase be used by individuals with specific health conditions? 
Lumbrokinase is generally safe for most individuals. However, it is essential to consult with a healthcare professional if you have specific health conditions, are pregnant or nursing, or have any concerns about using Lumbrokinase alongside your existing health regimen.
Are there any known drug interactions with Lumbrokinase? 
Lumbrokinase may have potential interactions with certain blood-thinning medications. It is important to consult with a healthcare professional or pharmacist if you are currently taking any medications or have specific health concerns.
How long does one bottle of Lumbrokinase typically last? 
The duration a bottle of Lumbrokinase lasts can vary depending on the dosage and frequency of use. A standard bottle usually contains a 60-day supply when taken as directed.
Are there any specific precautions or warnings associated with Lumbrokinase? 
Lumbrokinase is generally well-tolerated, but it is advisable to consult with a healthcare professional before starting any new supplement, especially if you have any pre-existing medical conditions or are currently taking medication.
 Does Lumbrokinase require a prescription? 
Lumbrokinase is typically available as an over-the-counter dietary supplement and does not require a prescription. However, it is always recommended to seek guidance from a healthcare professional before starting any new supplement regimen.
Is this suitable for vegetarians or vegans? 
Yes, Lumbrokinase is suitable for vegetarians and vegans as it is derived from natural sources and does not contain any animal-derived ingredients.
What if I'm unsatisfied with my purchase? 
We stand behind the quality and effectiveness of our Lumbrokinase Digestive Enzymes Supplement. If for any reason you are not completely satisfied with your purchase, we offer a 30-day money-back guarantee. Simply contact our customer support within 30 days of receiving your order, and we will gladly assist you with a refund or exchange. Your satisfaction is our top priority, and we want you to feel confident in trying our product risk-free.
Our Promise To You
At Etta Vita, we recognize that a vast majority of brands prioritize profits over integrity and transparency. For that reason we are committed to setting ourselves apart from these unethical practices and providing you with a unique experience. We test all our products by recognized 3rd party labs.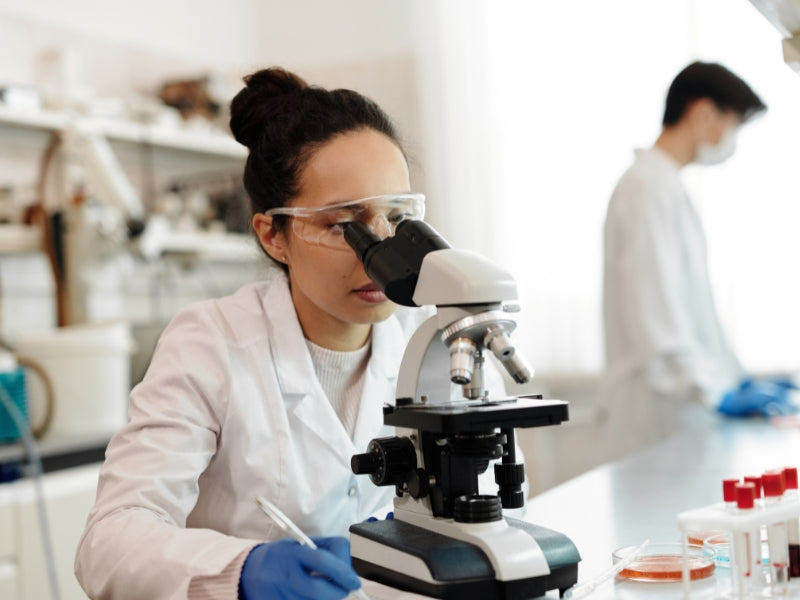 Quality Assurance & Transparency
All of our supplements are made with natural ingredients, free from artificial flavors or colors. We source globally from the purest sources, conduct third-party testing in ISO-certified labs, and package our products in GMP-certified, FDA-registered facilities.
All our batches are inspected by By Eurofins (https://www.eurofins.com/) for ID testing as well as potency testing and quantity by input.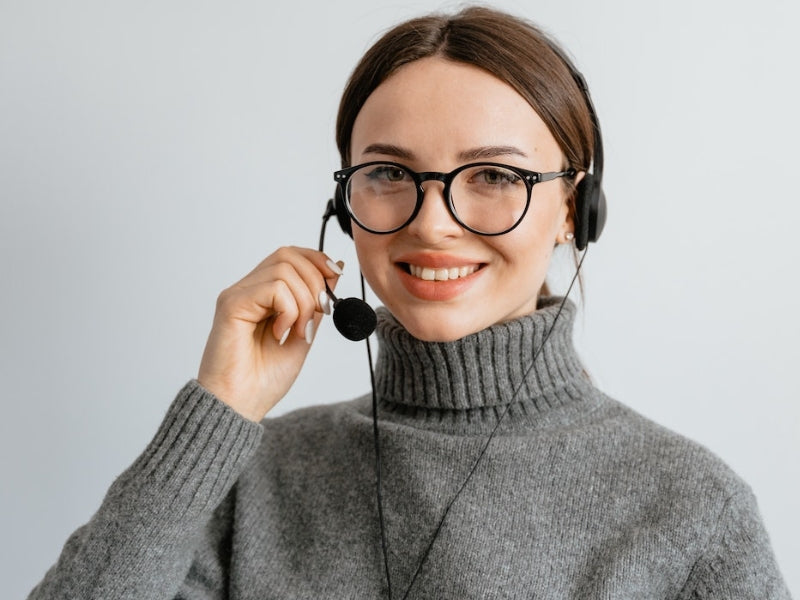 Exceptional Support
We prioritize your satisfaction and well-being. Our dedicated customer service team is available 24/7, ready to provide you with rapid support and personalized care.
We offer free shipping and hassle-free return, and stand behind our products with a 60-day money-back guarantee, ensuring you can experience any of our supplements with confidence. 
Etta Vita has partnered with Feed The Hungry, an organization that provides daily meals to
over 412,000 children in 25 countries

, in the fight against malnutrition.

At Etta Vita, we believe in making a positive impact. We proudly support charitable organizations like Feed The Hungry, Vitamin Angels, House of Hope, and more, in their fight against global malnutrition

Tony Brink

Founder of Etta Vita