Vegan Superfruits Gummies for Detox & Repair with Organic Silica and 9 Superfood Fruits
"These gummies taste soooo good and it's a quick, affordable and easy way to get my all my nutrients in."
Vegan Superfruits Gummies for Detox & Repair with Organic Silica and 9 Superfood Fruits
"These gummies taste soooo good and it's a quick, affordable and easy way to get my all my nutrients in."
✓ Revitalize your family's well-being with our 100% tree-ripened blend of 9 superfruits and let them experience a surge of energy, immune support, and a radiant glow with every delicious chew.
Sale price
$19.99
Regular price
$24.99
Unit price
per
Risk Free 60 Days Money Back Guarantee
Free Shipping on ALL orders
1 pack
1 Month Supply
$19.99 per bottle
2 pack
save $4.00
$17.99 per bottle
3 pack
save $11.99
$15.99 per bottle
Vegan

Gluten Free

Non-GMO
Risk Free 60 Days Money Back Guarantee
Free Shipping on ALL orders
View full details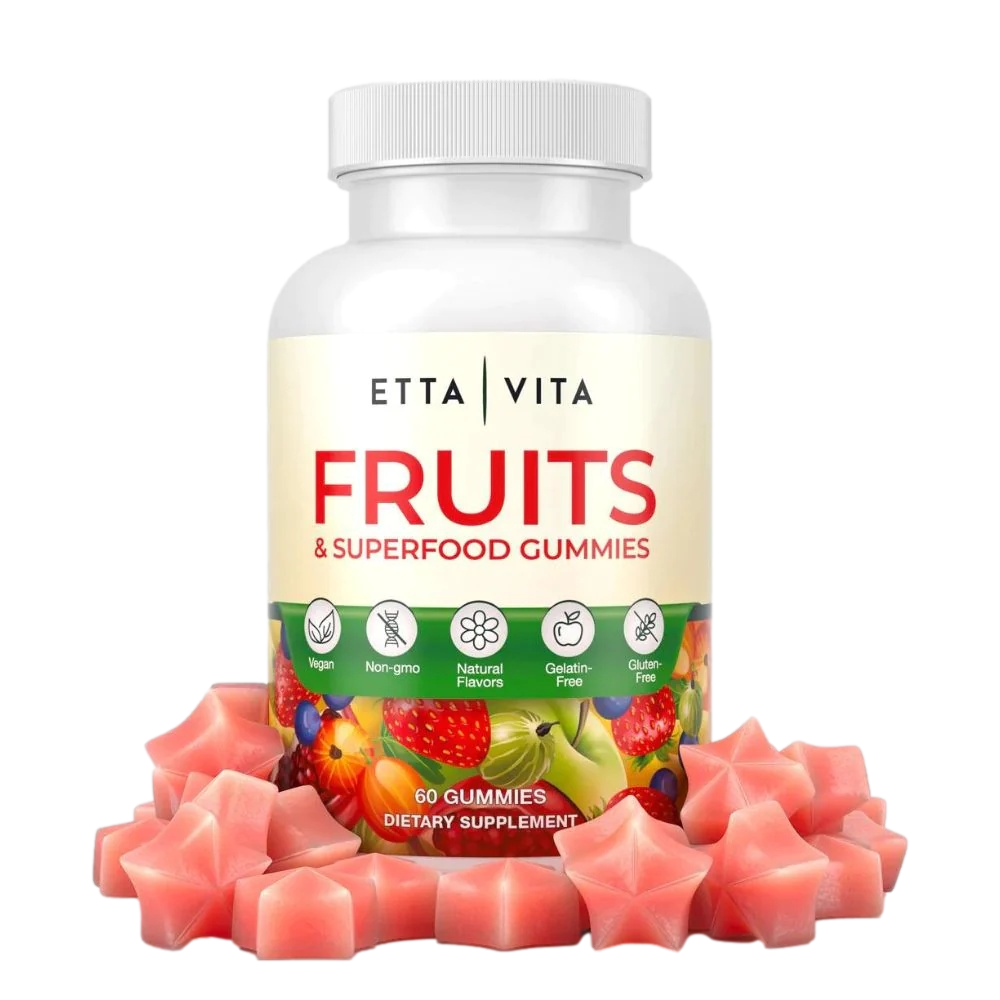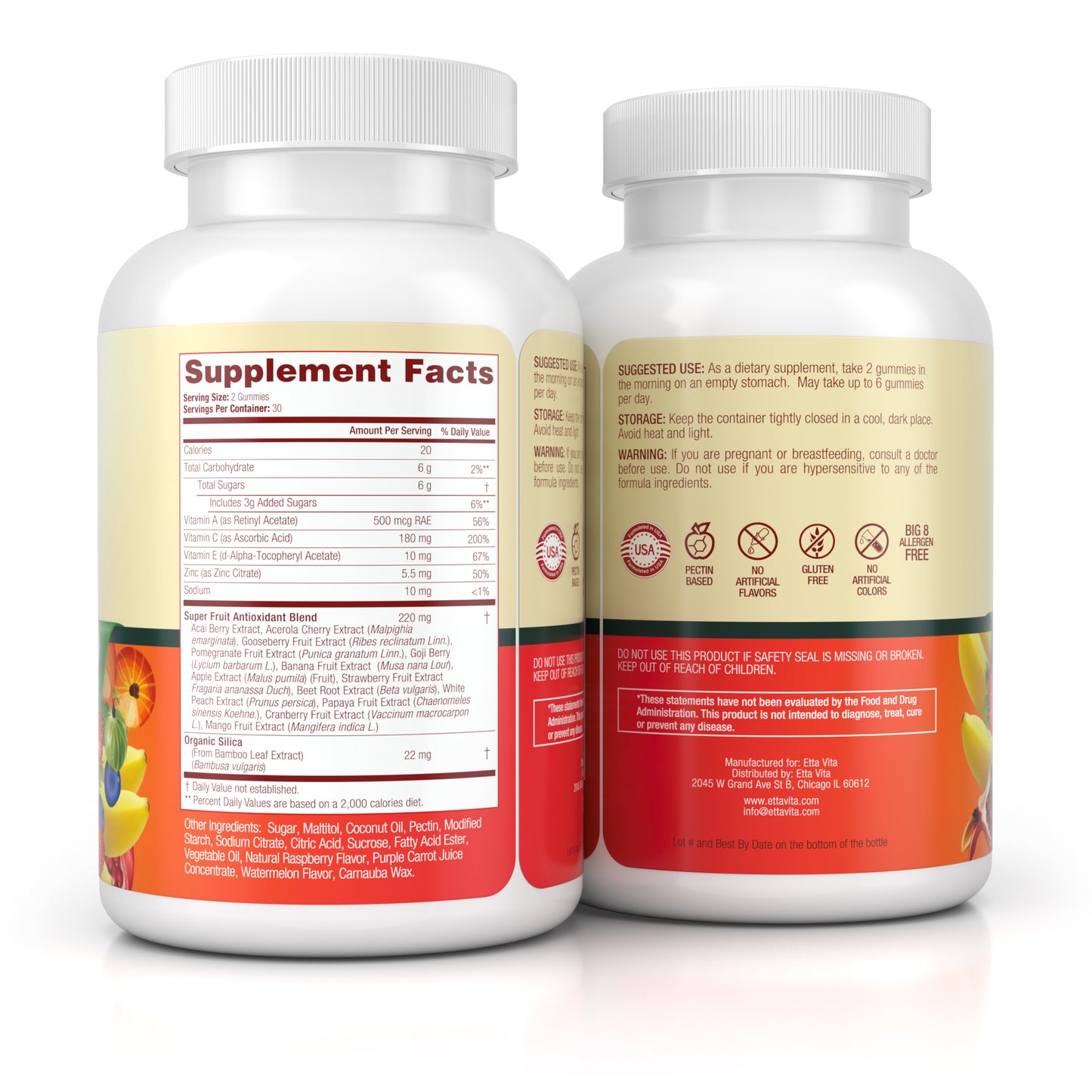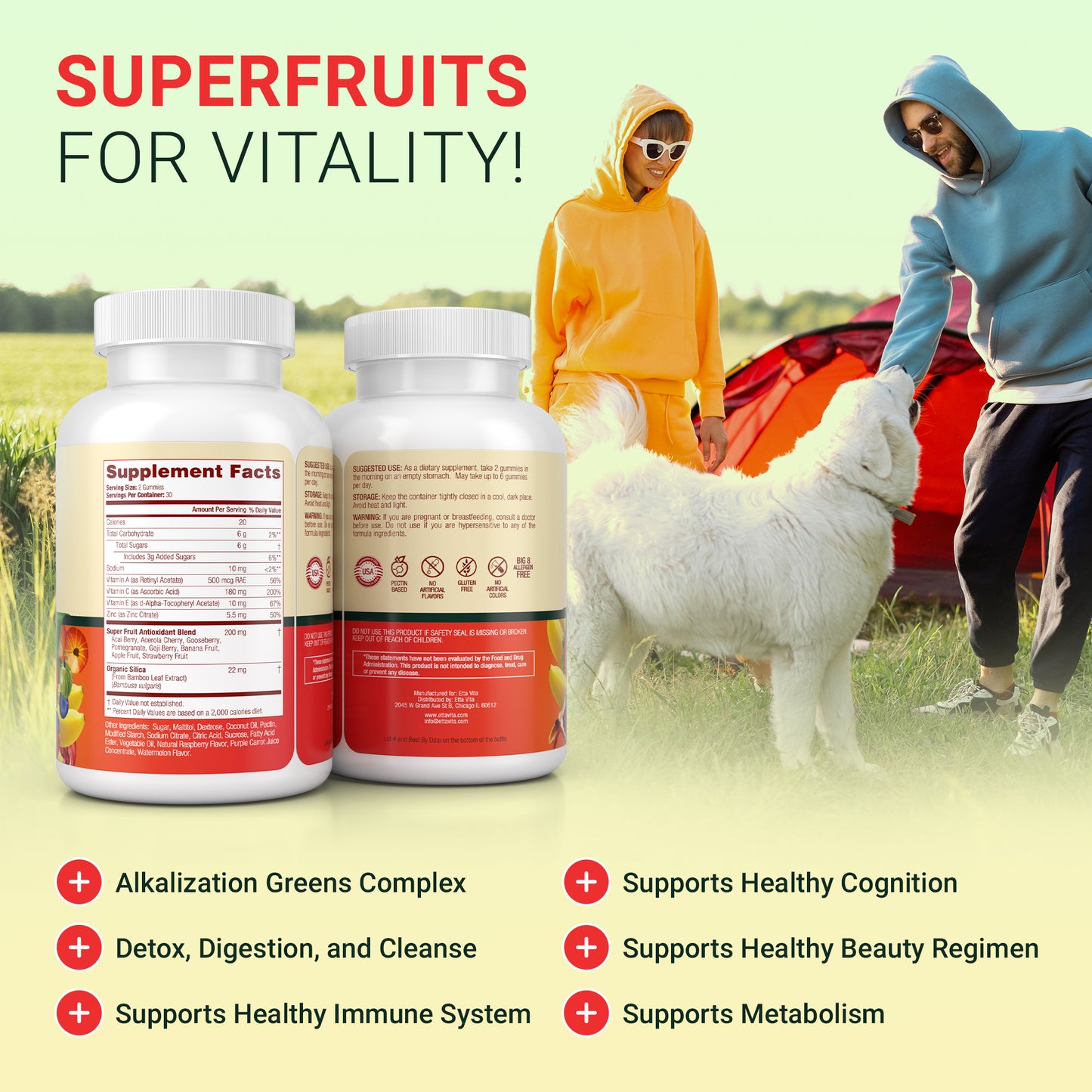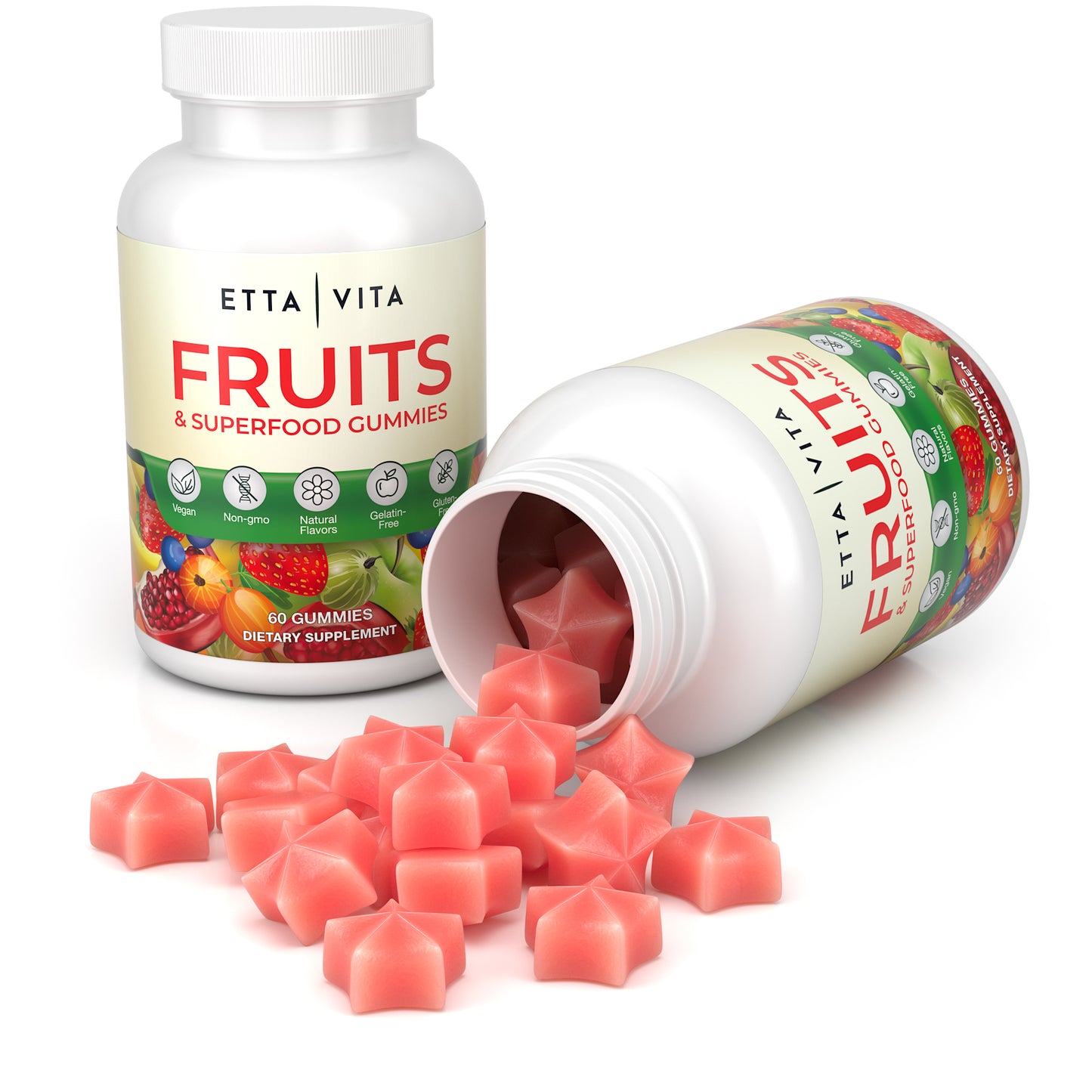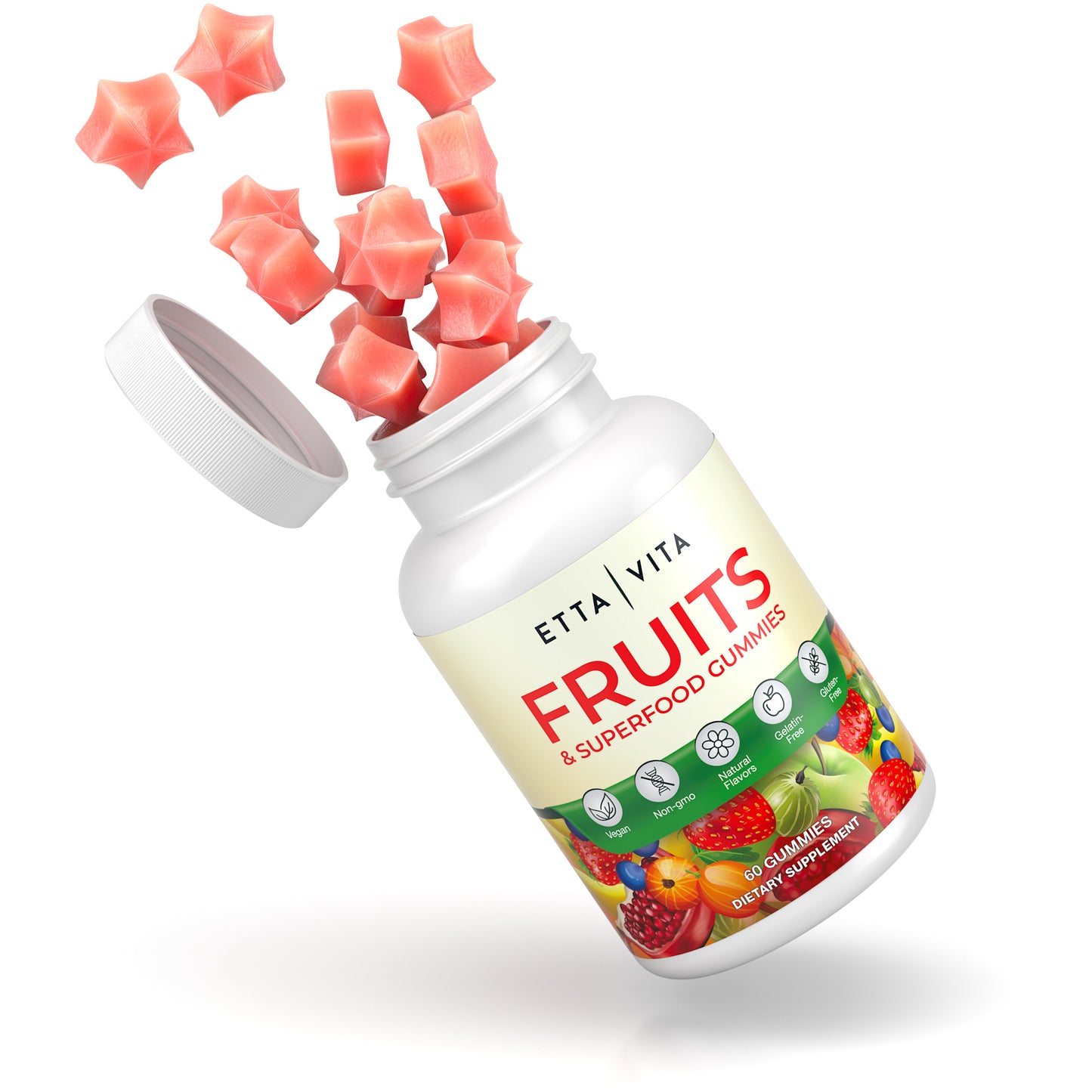 Packed with 9 superfruits and 30 veggies
... we thought of almost everything
Crafted with powerhouse ingredients like Chlorella, Spinach, Spirulina, Broccoli, Turmeric, and more, our formula harnesses the nutritional power of whole foods. From antioxidant-rich berries like Cranberry and Elderberry to potent herbs like Ashwagandha and Lion's Mane, our Fruits & Veggies gummies provide a comprehensive array of beneficial nutrients to support your overall health and well-being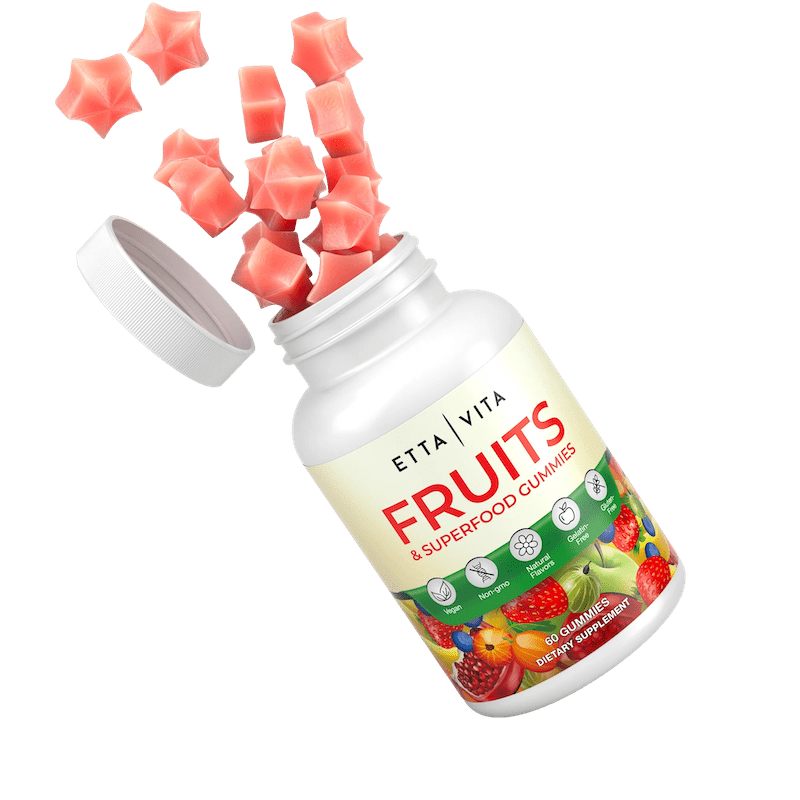 Safe for any member in your family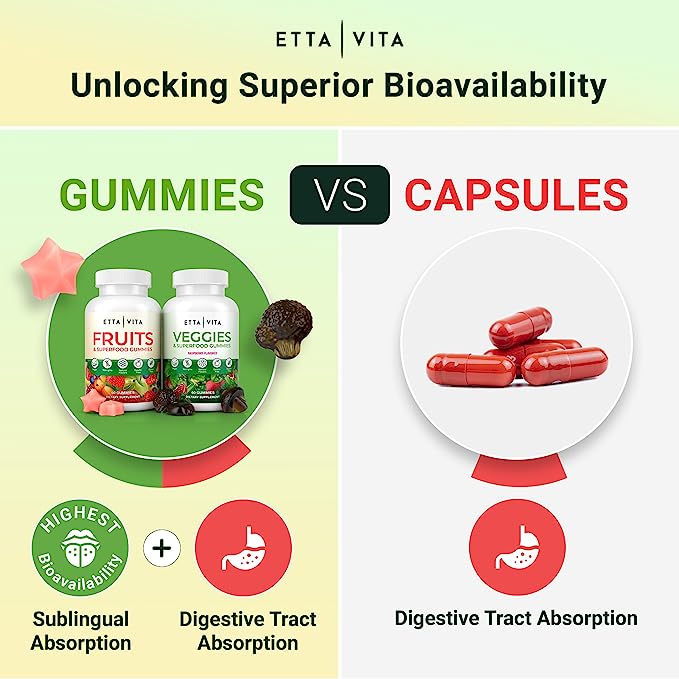 Super Fruits - Harnesses the Power of Potent Antioxidants
Experience the power of nature's bounty with our collection of superfoods. From antioxidant-rich Acai Berry, Acerola Cherry, Pomegranate, Goji Berry, Strawberry, and Cranberry to nutrient-dense Banana, Apple, Papaya, and Mango, our selection offers a range of benefits to support your well-being. read more
Enjoy the antioxidant-rich support provided by our fruits, protecting against oxidative stress and bolstering your immune system. These superfoods also provide vital nutrients, including vitamins, minerals, and fiber, contributing to heart health, digestion, and radiant skin.
Boost your immune system with the vitamin C-packed Acerola Cherry, Goji Berry, Strawberry, and Mango.
Embrace the power of nature's superfoods and unlock a world of health and vitality.
Harnesses the Power of Potent Antioxidants 

Reduce inflammatory response from environmental agents.

Fuels Clean Energy Production

More energy, better performance.

Promotes Clear and Vibrant Skin

Reduce Signs of Aging, polution and other agents.

Nurtures Heart Health

Provides the building blocks for a strong heart.
Setting a new standard: Us vs Them
| | | OTHERS |
| --- | --- | --- |
| Exceptional Quality | Our gummies contain 9 highly bioavailable superfruits and 30 veggies sourced directly from nature; free from gluten, GMOs, additives, fillers and synthetic colorants. | Ingredients may not be sourced from natural sources Often contain gluten, GMOs, additives, fillers, and synthetic colorants  |
| Easy to Take | Easily incorporate your daily dose of essential nutrients with our convenient and delicious gummies. Designed to be enjoyable and effortless to take, our gummies provide a comprehensive solution to support your health and well-being.  | Complex and cumbersome supplementation options often come in tablet or capsule form, which are typically unpleasant to consume.  |
| 24/7 Support  | We offer round-the-clock customer support, ensuring immediate assistance and resolving any concerns. | Limited or no customer support availability, leading to delays or unsatisfactory resolutions. |
| Science-Backed Formulations | Our formulations are precision-engineered using scientific research and evidence, resulting in exceptional effectiveness. | Formulations may lack scientific backing, raising doubts about their efficacy and benefits. |
| Big 8-Free | Our gummies are free from the eight major allergens (milk, eggs, fish, crustacean shellfish, tree nuts, peanuts, wheat, and soy), accommodating a wide range of dietary needs. | May contain allergens or cross-contamination, posing risks for individuals with allergies or dietary restrictions. |
| Third Party Lab-Tested | All of our products undergo rigorous third-party lab testing for quality and safety, manufactured in an FDA-approved facility with stringent quality control measures. | Lack of third-party lab testing and manufacturing in an FDA-approved facility, compromising quality assurance and safety standards. |
| Vegan & Keto-Friendly | Our products are formulated to be vegan and keto-friendly, aligning with plant-based and low-carb dietary preferences. | Not specifically tailored for vegan or keto diets, limiting options for individuals following these lifestyles. |
| | | |
Ask away
If you can't find the question you have in the FAQ feel free to email us at info@ettavita.com and we'll respond as quickly as possible.
Are the gummies suitable for vegans? 
Yes, our gummies are completely vegan-friendly, made without any animal-derived ingredients.
Are the gummies keto-friendly? Absolutely!  
Our gummies are formulated to be keto-friendly, allowing you to enjoy the benefits while following a ketogenic diet.
Are there any artificial flavors used in the gummies? 
 No, our gummies are formulated without any artificial flavors. We believe in providing a natural and authentic taste experience.
Are the gummies gelatin-free? 
 Yes, our gummies are gelatin-free. We use pectin, a plant-based ingredient, as the gelling agent instead.
Absolutely! We are committed to using non-GMO ingredients in our gummies to ensure their quality and safety.
Do the gummies contain gluten? 
No, our gummies are gluten-free. We understand the importance of catering to various dietary needs and have made our product suitable for those with gluten sensitivities.
How many gummies are in each bottle? 
Each bottle contains 60 delicious gummies, providing a one-month supply when taken as directed.
Can children consume these gummies? 
While our gummies are designed for adults, they can be suitable for children as well. However, we recommend consulting with a healthcare professional for appropriate dosage recommendations based on age and specific needs.
Can I take these gummies with other supplements? 
Yes, you can incorporate our gummies into your daily supplement routine. However, we advise consulting with a healthcare professional to ensure proper supplementation and avoid any potential interactions.
Are the gummies tested for quality and safety? 
 Absolutely! We prioritize the quality and safety of our products. Our gummies undergo rigorous testing in ISO-certified labs to ensure they meet the highest standards and provide you with a reliable and trustworthy supplement option.
Our Promise To You
At Etta Vita, we recognize that a vast majority of brands prioritize profits over integrity and transparency. For that reason we are committed to setting ourselves apart from these unethical practices and providing you with a unique experience. We test all our products by recognized 3rd party labs.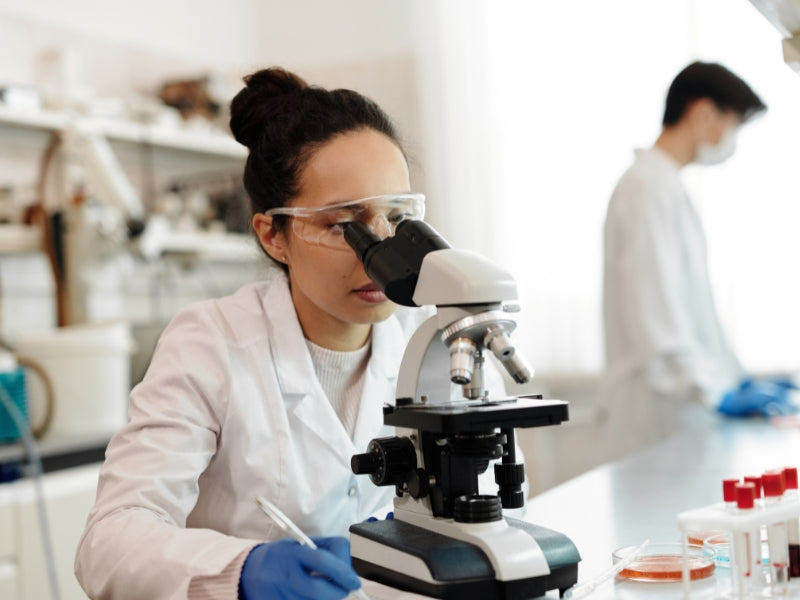 Quality Assurance & Transparency
All of our supplements are made with natural ingredients, free from artificial flavors or colors. We source globally from the purest sources, conduct third-party testing in ISO-certified labs, and package our products in GMP-certified, FDA-registered facilities.
All our batches are inspected by By Eurofins (https://www.eurofins.com/) for ID testing as well as potency testing and quantity by input.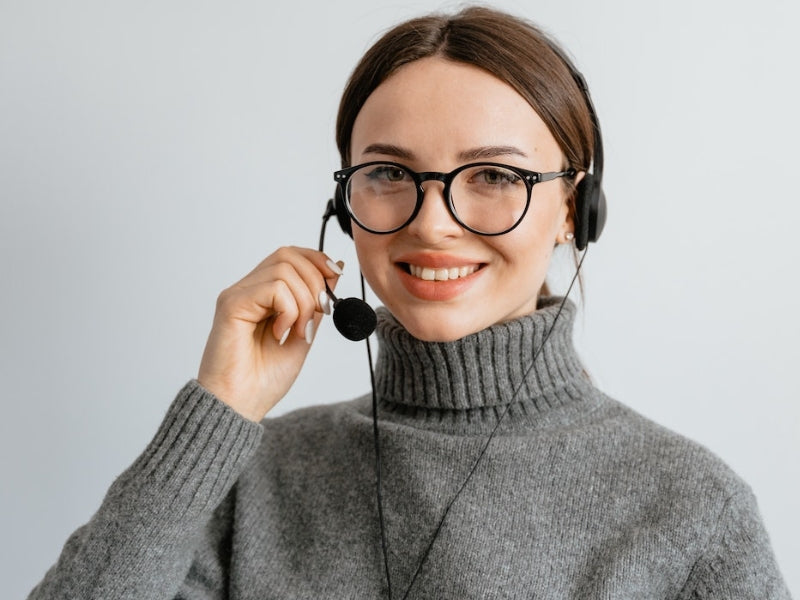 Exceptional Support
We prioritize your satisfaction and well-being. Our dedicated customer service team is available 24/7, ready to provide you with rapid support and personalized care.
We offer free shipping and hassle-free return, and stand behind our products with a 60-day money-back guarantee, ensuring you can experience any of our supplements with confidence.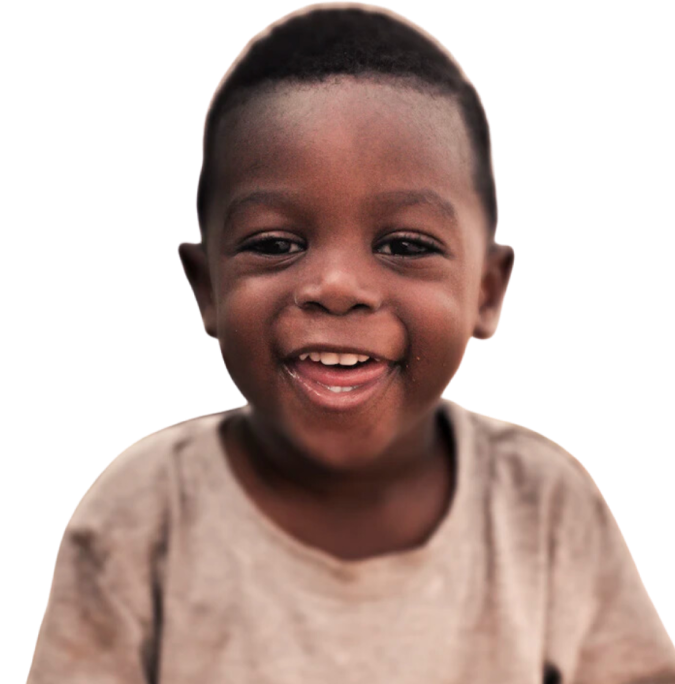 Etta Vita has partnered with Feed The Hungry, an organization that provides daily meals to
over 412,000 children in 25 countries

, in the fight against malnutrition.

At Etta Vita, we believe in making a positive impact. We proudly support charitable organizations like Feed The Hungry, Vitamin Angels, House of Hope, and more, in their fight against global malnutrition

Tony Brink

Founder of Etta Vita